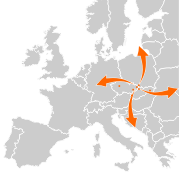 Where you can find us?

Head office is situated in Karviná, Czech Republic. Here is also the central warehouse, the biggest specialized warehouse of consumable material and computer accessories in the Czech Republic. You can also contact our branch offices, in the Czech Republic (Praha, Brno), in Slovakia (Turzovka and Bratislava) and in Poland (Cieszyn).

We export to more than 15 states of Europe.